zurück zum Archiv

---
Klaus Gesing QUARTETT
Fr, 10. Dezember; 20.00 Uhr
Eintritt: 12,- / 4,-
Gh. Schabhüttl in Rudersdorf
Klaus Gesing - soprano sax, bass clarinet, composition | Deutschland
www.klausgesing.com
Glauco Venier - piano | Italien

Yuri Goloubev - bass | Russland
www.jazz.ru/eng/pages/goloubev/default.htm
Asaf Sirkis - drums percussion | Israel
www.asafsirkis.co.uk
---
Klaus Gesing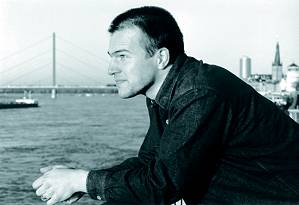 soprano sax, bass clarinet, composition
Klaus Gesing *1968 in Düsseldorf/Germany.
1987 1. Preis bei "Jugend Jazzt" in Nordrhein-Westfalen.
1990 Studium an dem Königlichen Konsevatorium für Musik in Den Haag, Niederlande.
1995 Preis "Bester Solist" beim Middelzee Jazz-Festival in Groningen, Niederlande.
1. Preis beim "Van Merlen"- Jazzwettbewerb in Den Haag , mit dem "Di Liberto Gesing Quartett", anschließend daran Auftritt beim North Sea Jazzfestival in Den Haag.
1996 Preis "Bester Solist" beim Jazz-Wettbewerb des internationalen Jazz- Festivals in Vienne ( Süd -Frankreich) Masterclass mit David Liebman in Stroudsburgh, USA. Abschluss des Studiums in Den Haag mit Auszeichnug für Komposition und künstlerischen Ausdruck.
2001 1. Platz in der Rubrik "Bester Künstler Jazz National" im Jazz Poll des führenden österreichischen Jazzmagazins "Concerto". Konzerte u. Aufnahmen mit u.a.: Kenny Wheeler, Norma Winstone, Chris Lawrence, John Taylor, Dave Liebman, Peter Herbert, John Hollenbeck, Gabriele Mirabassi, Michele Goddard, Jarrod Cagwin, Paolino dalla Porta, Francesco Sogiu, Adelhard Roidinger, Peter O´Mara, Alfred Kramer zahlreiche Plattenaufnahmen mit Eigenkompositionen: "First Booke of Songes" (ATS-Records), Norma Winstone´s "Chamber Music" (Universal), Jazz Big Band Graz "A Life Affair"(Universal)
---
Glauco Venier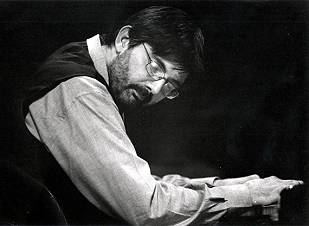 piano
Studies "Berklee College of Music, Boston Ma, Diploma candidate Professional
Music Mayor, Spring 1991-Fall 1991
Conservatory of Music in Udine, Italy
Graduated in Organ in 1985
Private Studies
Franco D´Andrea, Enrico Rava, Hal Crook, Ray Santisi, George Garzone (Berklee
College of Music Faculty Members)
Awards
1989 Semifinalist Martial Solal Piano Jazz Competition, Paris
1989 Finalist Thelonious Monk Piano Jazz Competition, Washington
1990 Umbria Jazz Clinics Scholarship, Perugia, Italy
1991 Berklee College of Music Achievement Scholarship, Boston
1995 Voted for "New Talent" in the journalistic referendum of the italian Jazz-Magazin "Musica Jazz" "Best Group", the Glauco Venier Trio at the Competition of the international Jazz Festival in Vienne, South-France Performances Kenny Wheeler, Lee Konitz, Klaus Gesing, Nguyên Lê, Steve Swallow, Joey Baron Jack Walrath, Norma Winstone, Enrico Rava, Paolo Fresu, Valery Ponomarev, Flavio Boltro, Hal Crook, George Garzone, Massimo Urbani, Stefano di Battista, Ganni Basso, Chris Speed, Matt Garrison, Abe Laboriel Jr. etc.
---
Yuri Goloubev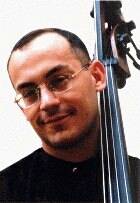 bass
Born in 1972, Moscow, USSR. Bass Studies with R.Ibragimov, Prof. E.Kolosov, Composition Studies with Prof. A.Leman
1995: MM Degree, Moscow Tchaikovsky Conservatory
1990: BM Degree, Central School of Music, Moscow
PROFESSIONAL ENGAGEMENTS
1992 - present: Principal Bass, "Moscow Soloists" Chamber Orchestra
2002 - co-founded EastWestConnexion Band - together with Austrian sax player Sigi Finkel, German pianist Christoph Spendel and Israeli drummer Asaf Sirkis
May 2002 - present: Executive producer, JazzFond Management, Moscow
1990-2000: Master classes in Dublin, Ireland, Peabody Conservatory, USA and Carnegie Mellon University, USA
1998- present: Founding member/bass chair, Russian Jazz Quartet
1994 - 98: co-Principal, "Studio for New Music" Ensemble
1994 - 96: Bassist, Moscow Conservatory Early Music Ensemble
1991 - 92: bass section, Bolshoi Opera House
1990 - 91: Principal Bass, "ENSEMBLE XXI" Chamber Orchestra
1991: co-Principal, European Youth Philharmonic Orchestra (Greece)
1993 - present: Member, International Society of Bassists.
AWARDS AND OTHER ACHIEVMENTS
2002: was awarded the title of the Honored Artist of Russia
2002: received the Recognition Award from the Russian Performing Arts Foundation
2000: Harper's Bazaar Russia places a feature article on Yuri Goloubev
1990: First Prize, All-Soviet Union Students Bass Competition
1993 and 1995: the "New Names" Scholarship Awards of Russian Cultural Foundation
---
Asaf Sirkis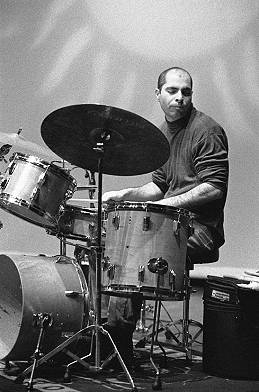 drums
Asaf was born in Israel in 1969. In the early 90s, having studied drums for seven years with David Rich, he started playing professionally with many jazz, rock, and free jazz artists in Israel such us; Harold Rubin, Albert Beger, Ari Brown, and Emmmanuel Bex to name a few. He played in various venues and festivals including the Jazz in the Red Sea Festival and the Israel Festival. Asaf was also involved in a variety of ethnic musics, playing with different klezmer groups and Middle Eastern music artists such as Yair Dalal and Eyal Sela. From 1994 he recorded and toured Europe with the Amir Perelman trio.
While still in Israel Asaf formed his own band, The Asaf Sirkis Trio, with which he toured Israel and recorded his first album, One Step Closer. His second project, The Inner Noise, was partly commissioned by the department of arts of the Tel-Aviv City Council, and was performed around Israel in 1997-8.
In April 1999 Asaf moved to London where he soon became a part of the UK jazz and world music scene. During that year he started working with Adel Salameh, a
Palestinian Aud player/composer, as well as Steve Lodder and Mike Outram with whom he reformed his own band, The Inner Noise. In 2000 Asaf became a regular member of Gilad Atzmon's Orient House Ensemble. This band has recorded four albums for Enja Records and tours Europe frequently. Their album 'Exile' has won 'Best CD of the Year' at the BBC Jazz Award 2003 as well as in Time-Out 'Reviewer's Pick' (by John Lewis). The band was nominated for the BBC jazz award 2004 as 'Best Band'.
Asaf also plays/played with other artists in the UK and in Europe, including Larry Coryell, Gary Husband, John Taylor, Barbaros Erkose (Turkey), Ari Brown (Chicago), Bela Szakcsi-Lokatos (Hungary), Glauco Venier (Italy), Yuri Goulobev (Russia), Christoph Spendel (Germany), Sigi Finkel (Austria), Carlos Barretto (Portugal), Simon Fisher Turner, Phil Robson, Arnie Somogyi, Martin Speake, Mark Latimer, Julian Siegel, Reem Kelani, Christine Tobin, Nicolas Meier Tom Arthurs and John Etheridge.
---