zurück zu den Veranstaltungen

---
indische klassik mit einem SITAR - MEISTER aus bengalen : RAJIB KAMARKAR; videos zum reinschmökern:
raga kirwani , raga yaman, raga bageshree
---
Indische Klassische Musik
Rajib Karmakar & Stefano Grazia
am Samstag den 18. Oktober 2014; Beginn 20:00 Uhr
im Gasthaus Pummer
Heiligenkreuz im Lafnitztal, Obere Hauptstraße 11
Anreiseplan
Eintritt: 13,- | Mitglieder 10,- | Jugendliche: 7,-
---
Die Musiker:
Rajib Karmakar - sitar
Stefano Grazia - tabla
---
RAJIB KARMAKAR - SITAR
Born in a highly cultured musical family of Bengal, Rajib is a one of the most promising young musician. He startedlearning the sitar at the tender age of four from his father Sri Durgadas Karmakar who was a strict disciplinarian, a purist and perfectionist and it was under his long and arduous training in all aspects of Sitar playing that Rajib emerged as a talented and sensitive young artist while still in his tender years .
He gave his first public performance at the age of six and at the age of 12 he performed in the All India Radio .After that he was fortunate enough to be the Gandabandh Sagrid of Ustad Ghulam Akbar Khan son in law of legendary Ustad Nissar Hussain Khan of Rampur Sahswan Gharana where he was first trained in the classical vocal music that forms the foundation of the "gayaki ang" which is much prevelant in his playing . Talent, however, is not enough to master the Indian classical tradition, and under the careful tutelage of his father and Ustad Ghulam Akbar Khan, Rajib matured gradually through study, countless hours dedicated to practice (riyaaz) and frequent recitals.
He also had the privilege to learn under Late Pt. Ramdass Chakravarty and Vidushi Krishna Chakravarty . Presently he is taking talim from Ustad Shahid Parvez Khan . He is M.A. ( Music) 1st class 1st from Rabindra Bharati University. Presently he is doing MFA from California Institute of Arts , California,USA
STEFANO GRAZIA - TABLA PLAYER
Stefano Grazia was one of the first in Italy to study Indian Classical Music and Tabla. In that pioneer age, while achieving in 1985 the Master Degree in Hindology at the Bologna University, he began in 1979 to study Tabla under the tutelage of the well renowned Maestro Sankha Chatterjee of Calcutta, following his permanent
classes in Venice for more than 15 years and meeting him at his residencies of Berlin and Calcutta.
In those years he met also the legendary Ravi Shankar and followed the workshop of the great Maestro Alla Rakha. In 1999 he began performing regularly Indian Classical and Fusion music and started the MUSA Association enlarging co-operations and music projects, among which ANANKE (Jewish Sephardic music) with whom he performed in several European Countries and Israel. In 2004 he had the great opportunity to meet and to play with the legendary Sitar Maestro Shahid Parvez with whom he made an official CD recording and several music tours in Italy (2004, 2008, 2011, 2013). In 2006 he met the legend of the Benares Gharana the Tabla Maestro Kishen Maharaj and took the opportunity to enlarge his musical knowledge also to this school, by following regularly the worshops and the classes of the son of him, Pooran Maharaj.
Between 2004-09 he has organized with MUSA Association several music festivals with the contribution of Indian & European musicians of worldwide fame. In 2006 he has been Artistic Director of INDIA WORLD in Bologna for the events dedicated to the Music of India and East Asia. In 2012 he followed the Tabla Master Class of Zakir Hussein in Nice. He gives regularly conferences regarding Indian Music & Culture and promotes Intercultural activities between East & West. He has performed as Tabla accompanist with many well renowned Indian musicians in more than 100 concerts in Italy, France, Austria, Germany, Switzerland, & Greece.
---

Rajib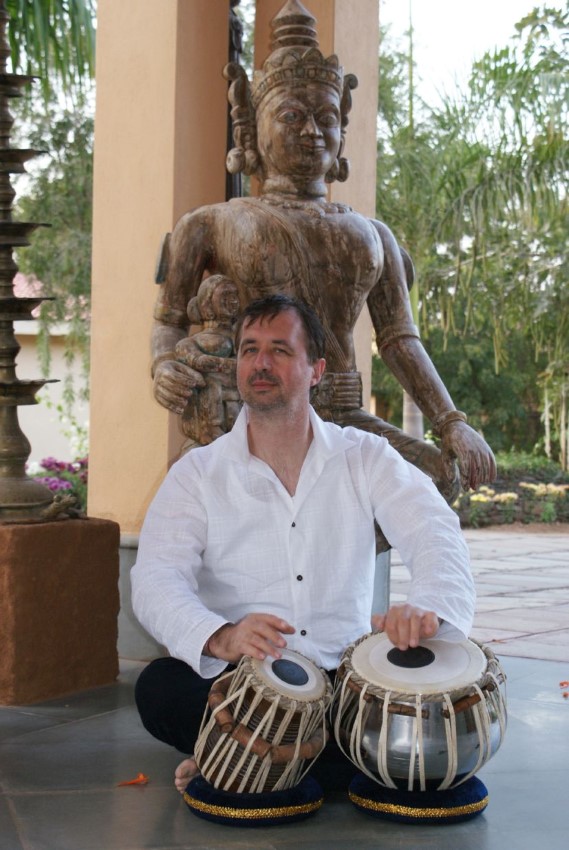 Stefano
---