zurück zur Veranstaltung

---
SILVIA BOLOGNESI

(italien)

http://silviabolognesi.com/en/
youtube: duo with m. colonna - and sabir mateen

in 2003 she is selected to form part of butch morris orchestra with which she performs during the 13th edition of "roccella jonica jazz festival" and again in 2010, conduction n. 192 "possible universe", during the 25th edition of the "sant'anna arresi festival".

she follows several improvisation and composition workshops with muhal richard abrams, roscoe mitchell, anthony braxton and deepens her skills on the double-bass with william parker. she has several experiences in classical music with the orchestra "città di grosseto" and the orchestra "r. franci". as well she works in the theatre with david riondino, marco messeri and the company "liminalia". she plays permanently with tiziana ghiglioni and, since 2007, she forms part of the group "new nexus", lead by tiziano tononi and daniele cavallanti.

since 2004 she directs the "open-combo" with which she records 3 albums; "introducing open combo", "what was i saying?" (with "33 jazz records", a british record label) and "large", edited by the new launched "fonterossa records" of which she is founder and trustee. she also leads the "living quartet" and "xilo music", an ensemble for wooden instruments.

in 2009 she creates a trio called "hear in now" together with tomeka reid (cello, from chicago) and mazz swift (violin and voice, from new york).

in 2010 the magazine music jazz awards silvia bolognesi the "top jazz 2010" as new best . in 2011 she spends a period in the u.s. with new york as base, where she plays with the trio "hear in now" in local clubs and with the "nublu orchestra" conducted by butch morris.

she teaches double-bass, bass, music theory and harmony at the "fondazione siena jazz" and at the association "mosaico" in colle val d'elsa. in 2009 she teaches at the summer courses "marcello melis".
---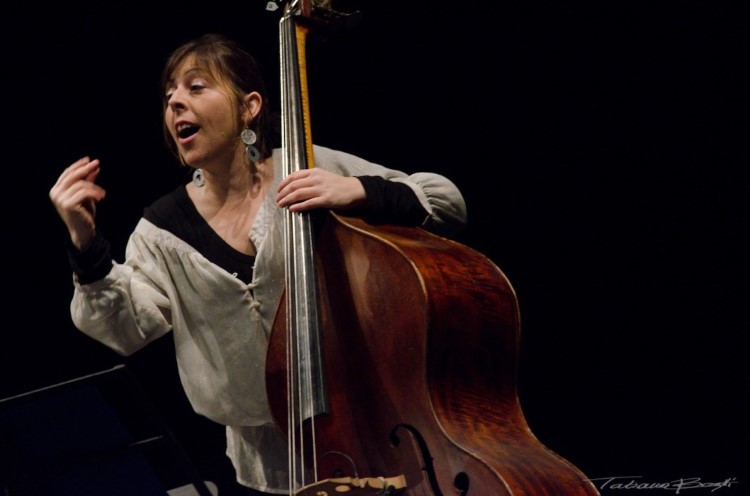 ---